Podcast 2005-08-25
UPDATE:
My dear listeners,

I was informed via email that my podcast was not attached to my post. I am *very* sorry for this mishap, and now all should be fixed!



----------------------------------------------------------------------------------------------
Welcome to all my patient readers and listeners. This podcast is the first official one of Crochet For Men, and I am so excited with what we have to offer you this week!

First off, I do want to let you know that the format has changed fom what you have been hearing. Instead of hearing music in the background at all times, you will only hear it at the beginning, the closing and the intros. Speaking of intros, they are:



In this section we shall cover news stories that is important to crocheters, especially men.

This section of the podcast shall be where we interview someone, such as a MenWhoCrochet eGroup member, a celebrity or even another crocheter. This is not limited to only men!!

In this section we will review one to three products to let you know what we like and what we dislike about it. Products can entail books, supplies, and even websites.

This is not going to be a feature in every podcast, but when we find something cool and free, be it a pattern (or patterns), supplies, books, or a great deal, we'll tell you here!

As always, I love feedback and encourage you to do so. Please email me at CrochetForMen@gmail.com. This also includes any news stories, any ideas, requests or suggestions for interiews and/or items to be reviewed. Remember, this podcast is for you, my listeners, so please don't be shy!

Now, as far as this weeks podcast, we cover the following items in our news section:

*

Boise State Broncos' tailback Ian Johnson

*

Altoona, Wisconsin Young Men Crochet Group

*

Prisoner Inmates at Orofino Giving Back

*

Todos Santos Cuchamatan, Guatemala

*

Tapestry Crochet with Carol Ventura

*

Purple Kitty Yarns

*

BBC - Mathematicians Crochet Model of Chaos

I mentioned pictures, and here they are:
This is a sample of the Guatemalan 'Pa' crocheted bags.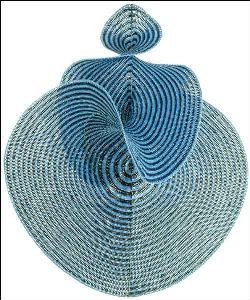 The Crocheted Model of Chaos
As promised, here are the links for the Freebies!
*
CLICK HERE FOR FREE ITEM
.
- Annie's Attic. Please type in
TOTEBAG
when asked for claim code.
*
Free Bernat Disco Yarn
*
Free SmartYarn Patterns
- Gone September 1st! Hurry!!
Finally, here is the direct link to
Ann Benson's
Designer Beadwork:
Beaded Crochet Designs
Thank you all once more for visiting our podcast, and may all your projects find themselves loved!
NOTE: As promised at the beginning of my podcast, you can listen to more voice demos from Mike Conway at
his homepage
.